Criticize the Singapore government all you want for its tightened labor policies, which has made it harder for startups to hire good foreign talent. But it's undeniable that they're trying very hard to recreate Silicon Valley in Singapore — an earnest attempt to keep the small country prosperous.
2014 is shaping up to be a landmark year for the startup community in Singapore. Just three months in, a multi-agency effort is already underway to introduce a raft of programs to turn Singapore into a nation of innovators, makers, and tinkerers.
The Infocomm Development Authority of Singapore (IDA) has a big part to play. Last week, the government agency announced a three-pronged strategy to support technology startups, consisting of a startup accelerator, an accreditation program to encourage government entities and large enterprises to adopt emerging technology, and a fabrication lab to give youths an opportunity to tinker with electronics and software.
That's not all. IDA earlier hinted it will introduce programming into schools. The government announced it will expand the Block 71 program, a thriving physical space for the startup community, and the National Research Foundation will soon decide on its shortlist of five venture capital firms that will join its rebooted ESVF program, a co-funding scheme designed to address Singapore's Series A funding gap. Specifics for these programs will be revealed soon.
The government has been listening to the startup community. ACE, an organization consisting of government officials and entrepreneurs, began a series of consultations to figure out how the state can help the country's young companies.
The recommendations were then compiled and presented. Some of the ideas, including an equity crowdfunding legal framework and the extension of subsidies for spending on innovation, have already been approved.
For the last time, startups are not SMEs
While the government sometimes conflates 'startups' with all new companies and small and medium enterprises (SMEs), the reality is that both require drastically different types of support.
Alex Lin, head of Infocomm Investments, IDA's venture capital arm, says the agency is specifically targeting high-growth innovation-driven enterprises (IDEs) that need an initial boost in funding and guidance. It has zoomed in on the issues faced by these companies at the earliest stages where they have not yet taken off and are most at risk of failing.
While SMEs typically have revenue early on and are destined for slow and steady growth, IDEs follow a different trajectory. They need a lot of venture capital early in their lifecycle as they're more focused on getting market share than making money. Eventually, they'll reach 'escape velocity' where they become global and scalable enterprises that are then able to capitalize on massive traction to generate cash flow.
"These are companies are globally focused and will create a lot more jobs. We are very interested in these kinds of companies," says Lin.
A focal point of IDA's push is the National Design Centre, a congregation point for designers and businesses located in Singapore's Bugis district.
The building's modernist and colonial architecture tell a story: the venerable building first saw life as a convent school when Singapore was under British rule before becoming home to the Nanyang Academy of Fine Arts.
Now, the center will host a tinker lab sponsored by IDA, which will eventually be filled with 3D printers, open source hardware like Arduino and Raspberry Pi, and sensors. This is just one of two 'IDA Labs' in Singapore; the other is located at the agency's headquarters.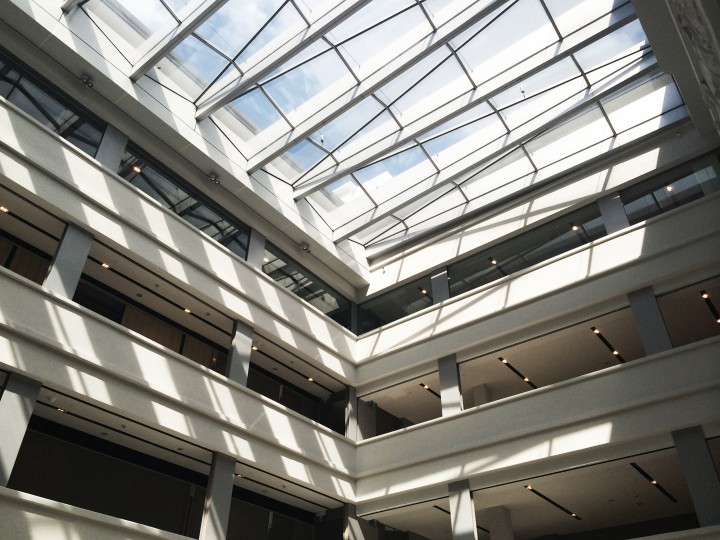 Natural light brightens up the interior of the National Design Centre.
Startups can use the facilities to develop new technologies and prototypes, network with the community, and learn from mentors through workshops and events.
Part of IDA's accelerator program will also be run from these labs. The agency isn't starting the accelerator from scratch: it has invested an undisclosed sum into JFDI, a Singapore-based accelerator that has been running its program for two years. Both parties will co-run the next iteration of the bootcamp, which will start in March.
The sum is significant – IDA CEO Steve Leonard says that money from Infocomm Investments now forms the majority of JFDI's funds. It will have a small stake in each team from the subsequent intakes.
Besides being used as a venue to mentor startups, the Labs will be used to test products from new companies as part of IDA's Accreditation program, which aims to certify software for adoption in large enterprises and government organizations. It hopes that by giving startups a stamp of approval, larger entities will be more willing to take a chance with new technologies rather than use products from established firms.
"The more innovative the product, the more we need to be comfortable with risk," says Leonard. "We need to give Singapore-based tech companies a shot. The government can be a user and a test case."
Who needs garages?
In the movie Pirates of Silicon Valley, Apple was famously portrayed as being started from a garage, which in America has become a symbol for the country's culture of tinkering.
Space constraints in Singapore, however, means hardware hackers don't even have a backyard to solder circuit boards, experiment with woodwork, or craft products that meld technology with tangible materials without annoying their neighbors.
IDA's Labs addresses that. Besides holding activities for startups, it plans to host holiday workshops at the Labs to give students exposure to hardware and software tinkering. It will also offer technical workshops and seminars to familiarize officers from government agencies with new technologies, which could lead to a better appreciation for hacking culture.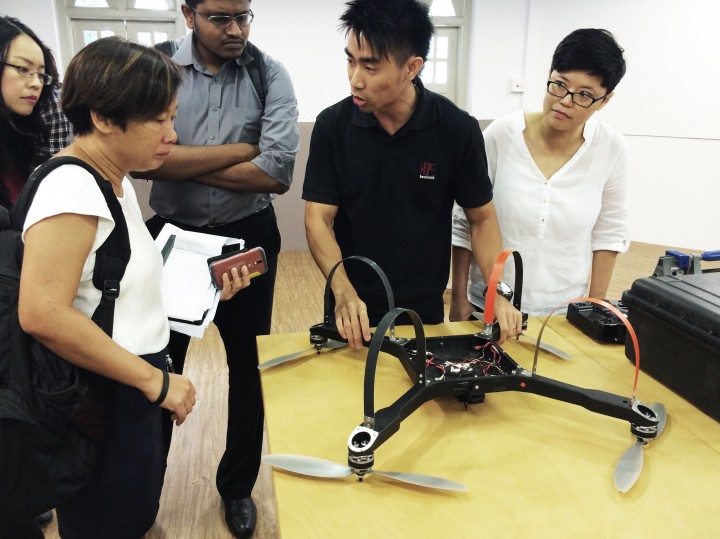 An engineer demonstrating the intricacies of a drone to curious reporters.
The agency isn't working in isolation. Fabrication labs are being set up all over the island – the Singapore University of Technology and Design has one, and Home Fix, a local hardware retail chain, is starting another in collaboration with the maker community.
The opening of all these facilities would mean that Singapore's makers and hackers would have more room to collaborate and exchange ideas with one another.
These initiatives are pushing against conflicting forces. Singapore's traditional emphasis on good grades and examinations, as well as the desire among young graduates for stable jobs in stable professions at the expense of passion, has meant that many of the country's potential hackers are locked up in half-a-decade long scholarships in civil service and other prestigious professions.
The danger is that these new facilities, well-meaning as they may be, could become under-utilized or fail to generate a requisite culture of innovation that would result in a consistent string of indigenous billion-dollar tech companies.
But Leonard and the IDA team believe they can navigate around these issues, given the support from the private sector, educational institutions, and startups in the country. The agency will tweak the program and the facilities to adapt to the needs of the community.
"Its evolving because it's not meant to be a museum or a display case; it's meant to be alive… so we're in the stage now where we have gotten more expressions of interest in the project than we can accommodate," says Leonard.