Six months is a long time in the rapidly evolving world of tech startups, but policy-making is a different art. That was exactly how long it took for Singapore's Entrepreneurship Review Committee (EnRC), a group consisting mostly of entrepreneurs and investors, to come up with a list of ways to improve Singapore's status as a startup hub.
Announced this week at a press conference, the set of recommendations – a wishlist, really – was created over much deliberation. Since last July, the committee sought feedback from over 100 members of the startup scene through a series of meetups. The ideas and concerns were then sorted out, debated over, and distilled into a list of recommendations.
From here on, whether or not these ideas will be realized – and how quickly – depends on their ability to traverse the multi-layered bureaucracy of the Singapore government.
Some suggestions may fall by the wayside amidst the chaos of differing priorities, while others may be easier to implement because they involve fewer decision makers or don't contradict the government's existing policies.
Minister-of-State Teo Ser Luck, chairman of the Action Community for Entrepreneurship (ACE), the organization behind EnRC, says that the tech sector has been growing. It had 39,000 employing startups with 293,000 workers in 2012, up from 24,000 supported by 167,000 employees in 2005.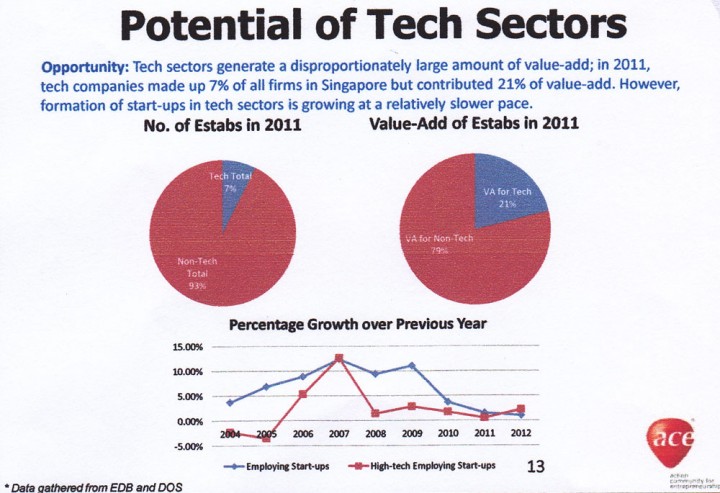 Yet the growth of this sector has still been slower than desired. The committee revealed that while tech startups – defined by the government as encompassing new companies in the infocomm technology, electronics, biomedical sciences, and engineering sectors – have contributed a disproportionately large amount of value to the economy, its growth has been slow from 2008 to 2011 compared to other types new companies.
Giok Lak Sim, founder of machine manufacturer company Zicom Group, attributes this to the global financial crisis in 2008, which burnt through many venture capital funds and led money to flow towards ostensibly safer industries. While the subsequent Eurozone crisis had also lowered risk appetites, Sim believes we're due for an upturn.
"I personally believe it will improve… we feel that Singapore now is pretty vibrant," he says.
With that in mind, here's the list of recommendations that could further fuel the growth of Singapore's tech startups:
1. Let private sector partners play a greater role in developing the entrepreneurial community
Minister Teo says that he is exploring how the government can reduce its outsized involvement in backing startups through ACE. He wants the private sector to take the helm while the state takes a backseat.
"Maybe you won't need an ACE chairman from the government anymore, maybe the government can take a different role and still help to champion and facilitate but let the private sector drive it," he adds.
2. Double the number of youths in overseas immersion programs to 400 annually
Polytechnics and universities in Singapore have programs which send students to leading startup hubs like Silicon Valley and Beijing for internships. These initiatives should expand to benefit more students and aspiring entrepreneurs.
3. Encourage schools to introduce tinker labs
This exposes students to emerging technologies like 3D printing and open hardware, with the hope of sparking their interest in science and technology.
4. Unlock corporate venture capital and other private financing options
In the United States, 16 percent of venture capital deals from 2007 to 2013 involve corporate venture capital participation. 40 percent of these deals occur at the seed and Series A stage, indicating that corporations are becoming more comfortable with investing at earlier stages. This helps offset the Series A crunch affecting the country.
In Singapore, meanwhile, only around four percent of VC deals in 2011 and 2012 involved participation from corporate funds.
The committee recommends the government introduce tax incentives to encourage more corporate investment in startups. The state could also help introduce venture debt, a kind of lending scheme provided by specialized banks or non-bank lenders. Instead of using assets as collateral, venture debt providers back their loan with warrants, which are rights to purchase equity to make up for the higher risk of default.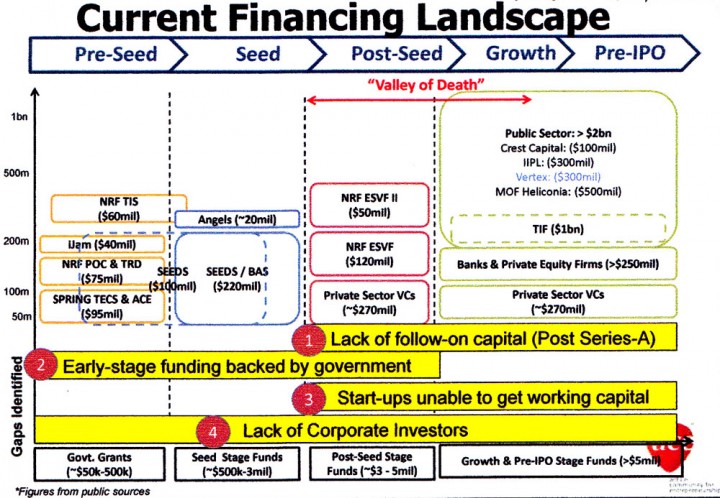 5. More collaboration between large corporations and startups
Organize events for startups to pitch their products to corporations. Develop an online platform where corporations can post calls for collaboration which startups can then respond to.
6. Make Singapore a crowdfunding hub
Introduce clear, pro-crowdfunding regulations that facilitate accreditation of investors and encourage crowdfunding platforms to set up in Singapore. Rope in partners who can raise awareness about crowdfunding and help startups maximize the use of the funding avenue.
7. Help startups get better access to talent
Large corporations could second their staff to work on joint projects with startups. The government could provide funding support to spur this trend.
Student internships at startups should be encouraged even more, while manpower policies should be liberalized by creating a separate foreign worker quota for startups and introducing a special visa for qualified foreign talent who possess expertise lacking among the Singapore workforce.
8. Grow the physical spaces for startup activity
Block 71 has been successful in fostering a community within a physical space. More of these communities should be nurtured across various industries to create networking and collaboration opportunities among all members of the startups ecosystem.
9. More government funding in nascent tech sectors
The government should target its co-investment schemes towards sectors that investors find riskier.
10. Enhance programs that help startups expand abroad
While such programs do exist, they're geared more towards small and medium enterprises than startups. So there's a need to work out a structured assistance program just for startups to help them cope with the cost and challenges of venturing overseas.